Webflow is a web development platform that allows users to create professional and custom websites without needing to write code. It provides a visual canvas for designing and building websites, making it a no-code website builder. Webflow is known for its ability to generate clean and semantic HTML, CSS, and JavaScript code automatically, which can be ready for publishing or handed off to developers if needed.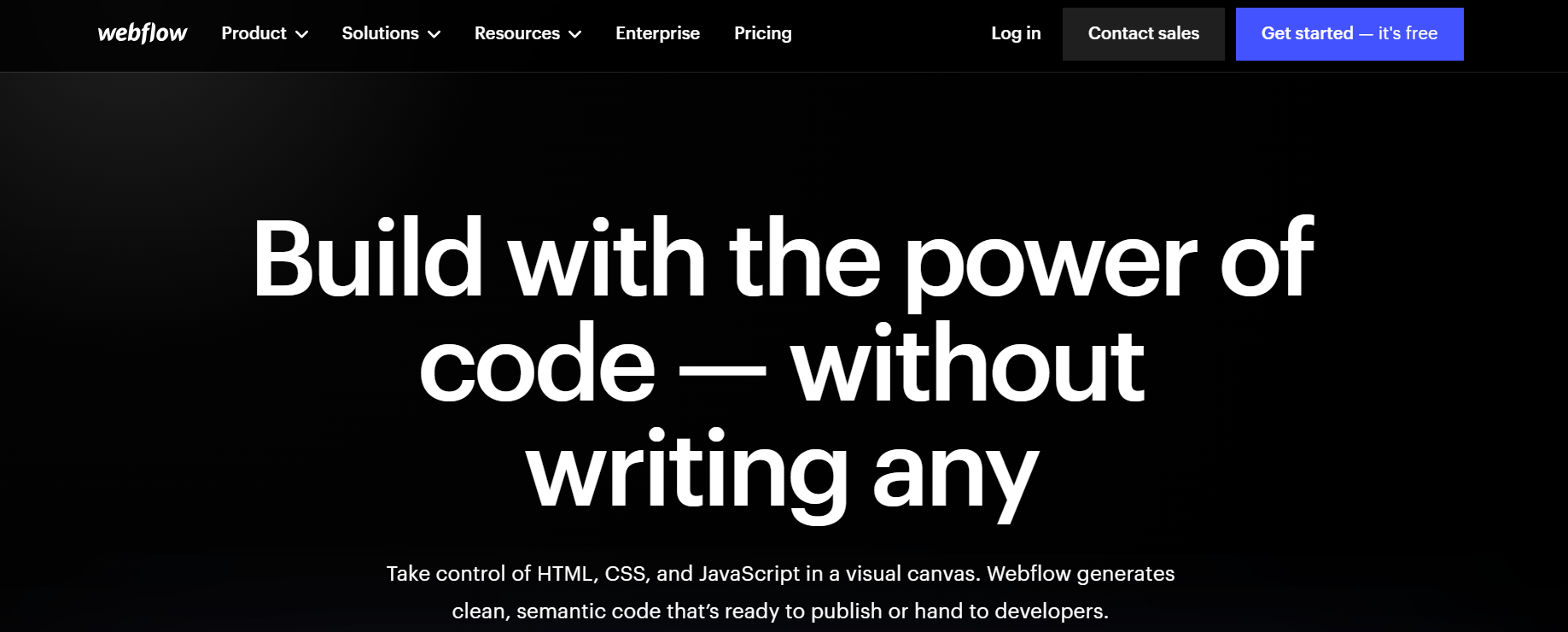 Webflow is favored by designers, marketers, and businesses that want to create websites with custom designs and functionality without the complexity of traditional coding. It's often used for building responsive, visually appealing websites that are tailored to specific needs.
Webflow is a versatile platform adopted by various individuals and organizations, including businesses, designers, marketers, developers, content creators, startups, educators, nonprofits, freelancers, and e-commerce ventures. Its appeal spans from large companies to small startups, thanks to its efficient website creation and management capabilities. Designers find it especially attractive due to its visual design tools. Marketers benefit from its SEO optimization features, while developers can use it for rapid prototyping and collaboration. Content creators, educators, and nonprofits utilize Webflow for their online presence, while freelancers offer their services through the platform. Its e-commerce capabilities also make it a go-to choice for online businesses.
Efficient Web Design: Streamlines web design for designers and developers with its visual canvas.

No-Code Website Building: Allows non-coders to create custom websites without complex coding.

Design Consistency: Promotes design consistency across projects with Team Templates and CMS Collections.

Automatic Site Backups: Provides automatic site backups and versioning for peace of mind.

Staging Environments: Offers separate testing environments for changes before going live.

Responsive Design: Simplifies responsive design for various devices.

Content Management: Effective CMS for content-rich pages (blogs, eCommerce, news).

Cost Efficiency: Reduces development costs by eliminating the need for dedicated developers.

SEO-Friendly: Built with SEO in mind for better discoverability.

Collaboration: Enables efficient team collaboration for faster project completion.
The purpose of using Webflow is to simplify and enhance the web design and development process. Whether you're a designer, developer, or business owner, Webflow offers a user-friendly platform for creating custom websites, maintaining design consistency, and optimizing for efficiency and effectiveness.
Do you know what's a game-changer for websites, especially if you're using Webflow? It's Polyflow! It's like having a magical tool that makes your site speak different languages and does some cool tricks based on where your visitors are from.
Imagine you have a website, and you want people from all corners of the world to understand it. That's where Polyflow comes in. It takes your content and translates it into various languages without you having to copy a million pages. It's seriously a lifesaver because it saves you a ton of work.
But here's the real kicker – Polyflow does more than just translation. It lets you show different stuff to people based on their language and where they're visiting from. So, if someone from France pops by, they'll see everything in French. And if a visitor from Spain shows up, they'll get all the content in Spanish. It's like rolling out the red carpet of personalized experiences for your visitors.
Oh, and did I mention they've got a free plan? Yup, you can try it out without spending a dime. And if you ever need a hand or have questions, their customer support is there to help. To sum it up, Polyflow is like your website's secret weapon for going global. It makes your site multilingual, super personalized, and search engine-friendly. It's a must-have for anyone looking to expand their online presence worldwide!
Benefits of using PolyFlow
Accurate Simulation: Precisely simulates viscoelastic fluids and manufacturing processes.

Cost Reduction: Speeds up design, lowers energy use, and cuts production costs.

Material Investigation: Aids R&D by studying new plastics and elastomers.

Environmental Impact: Promotes sustainability and energy efficiency.

Improved Product Quality: Reduces prototyping, enhancing quality.

User-Friendly: Easy-to-use interface simplifies tasks.

Multilingual Capabilities: Manages multilingual websites effectively.

Enhanced SEO: Boosts website visibility with SEO features.

No-Code Solution: Accessible to users with varying technical skills.

Trusted by Companies: Trusted and reliable for businesses.

Free Trial: Offers a free trial for exploration.
Polyflow offers three pricing plans to cater to different needs. The Free Plan is perfect for smaller projects, with up to 20 pages and essential features, all at no cost. For more extensive projects, the Business Plan at $19 per month (billed annually) offers up to 500 pages and email support. The Business Plus Plan at $49 per month per project includes unlimited pages, live chat support, and all the advanced features.
Let me share my awesome experience with Flowout, this Webflow design and development subscription service that's seriously impressive. What's the best part? Unlimited design requests and revisions for a flat monthly rate. No contracts, no billing surprises, and you can cancel anytime. It's super flexible!
Flowout is lightning-fast in delivering results. They get your ideas and even suggest cool solutions you might not have thought of. The best thing? All their developers are Webflow certified, so you know you're getting top-notch expertise. And they're all about making your website look great and work smoothly on any device. No more slow or clunky sites. They add snazzy animations too!
Plus, they've got loads of resources, like 60+ free Webflow templates, a cool podcast, and a blog full of tips and tutorials. Impressive, right? They've even worked with big names like Jesper, helping them raise millions. Oh, and the pricing is crystal clear. Pick your plan, pay the same every month, and no pesky contracts. It's hassle-free. So, if you need top-notch Webflow design and development, check out Flowout. Trusted by big businesses and totally a game-changer.
Benefits of using Relume Library
Unlimited Webflow Design & Development: Enjoy unlimited design and revisions without contracts or surprises.

Fast Turnaround: Quick delivery of your projects without delays.

Experienced Team: Certified developers with Webflow expertise.

Responsive Design: Websites designed to work seamlessly on all devices.

Engaging Animations: Enhance your site with eye-catching animations.

Speed Optimization: Lightning-fast websites for superior user experience and SEO.

Abundant Resources: Access a library of 60+ Webflow templates, a podcast, and helpful guides.

Predictable Pricing: Transparent pricing with no long-term commitments.

Impressive Portfolio: Proven success with notable clients and projects.

Trusted by Leading Businesses: A trusted choice for top-tier companies.
Flowout is the ultimate solution for Webflow design and development. Their expertise, speed, and user-focused approach can elevate your online presence effortlessly. Whether you have a dedicated designer or need ongoing support, Flowout delivers outstanding results. It's a game-changer for web projects, providing confidence and excellence.
The Webflow Development Plan starts at $3,900 per month, offering unlimited requests, revisions, and projects with a swift turnaround. Their Design & Development Plan at $4,900 per month includes design services, and both plans feature a dedicated client manager and flexible billing cycles. Flowout offers Hourly Packages starting at $850 for 10 hours of project-specific assistance.
A Relume Library? It's like a magic toolbox for web designers and developers. Imagine you're building a website, and instead of starting from scratch, you can just grab pre-made design elements, like building blocks, from this library. It's a huge time-saver, trust me. But here's the cool part – they've got this AI Site Builder thing. You give it a simple prompt, and it spits out a sitemap and wireframes with AI-generated content in minutes. It's like having a design genie at your disposal.
And guess what? You can use these pre-built components in both Figma and Webflow. It's like having a secret stash of design treasures that you can easily integrate into your projects.
Oh, and they've got an active community too. You can share your work, seek support, and even vote on components. It's a whole ecosystem designed to make your web design life easier. Plus, they've got a Chrome extension, so you can access these components right within your web design tool. It's used by thousands of web developers, so you know it's legit.
And don't worry about pricing. They've got different plans, including a free one, so you can choose what works for you. In a nutshell, Relume Library is like having a treasure chest of design goodies, an AI helper, and a supportive community all rolled into one. If you're into web design, this is a game-changer.
Benefits of using Relume Library
Time Efficiency: Quickly build websites using pre-built components, saving hours of work.

AI-Powered Site Builder: Utilize AI for planning and initial design phases.

Large Component Library: Access a flexible and responsive component collection.

Compatibility: Seamlessly export components to Figma and Webflow.

Community Support: Collaborate and get assistance from an active user community.

Cost-Efficiency: Affordable pricing plans save time and money.

Client-First Approach: Ensures client satisfaction with organized Webflow sites.

Regular Updates: Stay current with new components and features.

Chrome Extension: Access components directly within Webflow for easy integration.

Learning Resources: Benefit from video tutorials and resources.
Relume Library streamlines web design, enhances productivity, and fosters a supportive community, making it a valuable tool for designers and developers.
Relume Library provides flexible pricing plans to suit diverse user needs. The Free Plan is ideal for simple websites, offering 30 Webflow components, a free Figma Kit, and the Site Builder for one project, the Starter Plan at $32 per member per month (billed yearly) gives access to over 1,000 Webflow components, a Pro Figma Kit. The Pro Plan, priced at $40 per member per month (billed yearly), caters to teams and professionals with advanced sites, providing unlimited projects.
Hey there! So, I recently stumbled upon this cool website called Superflow, and it's been a game-changer for our website projects. It's a tool that helps your team and clients collaborate and provide feedback on websites. And guess what? It speeds up the whole website development process by like 10 times!
One of the things I love about Superflow is its features. You can add comments, assign tasks, and even record media right there on your website. Plus, it's got this GPT-4 AI Copilot thing that helps with rewriting content. Super handy, I must say. The best part is, that it plays nicely with other tools we use, like ClickUp, Slack, Asana, and Webflow. So, it's like our project management hub.
Now, let's talk money. Superflow offers different pricing plans. There's a free plan, which is great to get started. But if you're a freelancer or agency, they've got some paid plans with more features. You can even go custom if that's your thing. And oh, they've got a blog where you can find tips and tricks, and their documentation is pretty detailed if you're into that sort of thing.
If you're tired of juggling feedback channels and want a more efficient way to collaborate on website projects, Superflow might just be what you've been looking for. Give it a try, and who knows, it might be the missing piece to your web development puzzle.
Benefits of using SuperFlow
Using Superflow at usesuperflow.com offers several valuable benefits for website collaboration and development:
Effortless Collaboration: Simplify teamwork by enabling direct website feedback, reducing communication clutter, and expediting development.

Clear Feedback: Features like comments, task assignments, and progress tracking ensure actionable feedback, reducing the need for clarification.

Media Recording: Record and transcribe audio feedback for enhanced clarity and on-the-go communication.

Annotations and Comments: Precise feedback with versatile annotation tools for highlighting specific areas on the website.

AI Copywriting Assistance: Instant copy suggestions from the AI Copilot save time and enhance content quality.

Seamless Integrations: Superflow integrates seamlessly with popular project management tools, serving as a central hub.

Mobile Optimization: Works smoothly on mobile devices and various browsers, ensuring effective collaboration across platforms.

Easy Installation: Simple script tag installation for easy setup.

Flexible Pricing: Various pricing plans, including a free option, cater to different user needs.

Positive User Feedback: Superflow receives acclaim for its user-friendly interface, time-saving features, and efficient collaboration tools.
Superflow enhances collaboration, feedback efficiency, and website development speed, making it a valuable tool for various web projects. Try it for smoother and more productive web development.
Superflow provides flexible pricing plans to meet diverse needs. The Free Plan offers essential features for small projects at no cost, while the Freelancer Plan at $29/month (billed yearly) suits those with 3 active projects and an option to add more seats. The Agency Plan at $59/month (billed yearly) offers unlimited projects and seats with additional seat options. For advanced needs, the Agency Pro Plan at $99/month (billed yearly) provides webhooks along with unlimited projects and seats.